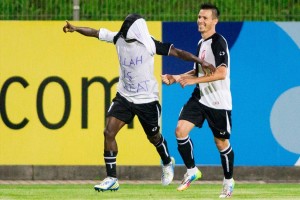 Kurbinasit have got a draw with a lot of values in the first European to transfer Rudar while Nigerian James adeniji punishment has been the savior of Slovenes and kurbinasve. With Equalizer taken, the Bianconeri have a pretty good chance to pass to the next round of the Europa League. 22-year-old James, in an interview he said that all the players will do their utmost to turn the celebration leg and secure qualification.
James, appears to save the form of fundsezonit where you found the net the way several times. How do you feel after scoring against you marked Rudare?
I feel very good. The coach, in the last games of last season, has positioned on top of the attack and my task was precisely to find the network path and the achievement of this goal very happy. I just do the task using the opportunity offered me and the team will continue in next to my best as new challenges await us. This was my first European goal and gives us the opportunity are closer to qualification.
How close do you think you are training?
1-1 result achieved in the transfer is quite good. We were quite prepared before the match with Rudar and managed to cope successfully with the pace of the match. Of course, for the last round should give the maximum to the next challenge, in which we have some factors in our direction to make us even stronger to qualify. Chances to pass further increased for us, but we are down to earth and should djersitim to reach his goal.
The next game will be played in Lac, opposite the local public will be entirely in your arm …
Fans are a great support for us and will be our motivation to qualify for the second round of the Europa League.The team is highly motivated by the result achieved in the transfer and will give their best to satisfy our fans as we want to win Rudare. As I told you earlier, there are several factors that make us stronger to pass through and one of them is playing at home. Do not forget that in the second challenge back captain Erjon Vuçaj along with Sefgjini and it complements the more our team that will seek to write another page of this successful club history.
Do not pressure is probably already in your arm?
Maybe, but we believe that we are able to cope and return it to our advantage. We have the support of everyone and trying to turn it into a celebration challenge Thursday. There is no euphoria among us, but confident that we can manage successfully.