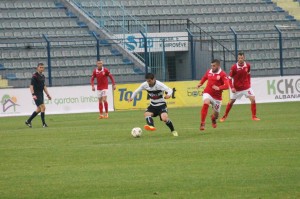 Montenegrin midfielder Marko Cetkovic is back in training with the team after an absence of people during relatively due to its damage in Kavil. Now all that is left behind and the player is preparing for the grand finale. In an interview with Sport Express, Montenegrin midfielder is optimistic about winning the Cup. As for the future, kurbinasve leader said that is not the right time to think about it, but Laci has great advantage by any other team.
– Marko, you feel like you're back with the group?
– Absulutisht that very well. Nobody can understand the suffering of a player when he is injured and sees the game as a fan. Fortunately I had done surgery and I feel much better than the first leg. It allows me to play noramlisht. After the end of the season will see what I will do with the problem that I
– Two weeks from the finals. You have captured the emotions?
– Not yet, I do not think that will have emotions in the match. It is certainly a very important meeting for us, but we should be sanguine and think positively. Personally I am very confident to win this trophy.
– How important is the cup for you as an individual and for the team?
– Each winning trophies is a big plus for any player in his career. In conclusion I would remember winning trophy and emotions to give it. Personally I feel privileged to be in the final with Lac although this season could have been a contender for the title. Cup season and saves the team must win at any cost. Cup win and all expenses of the president and our labor for a whole year is wasted.
– Have you thought about the future?
– No, I want to clarify something. I'm a professional and I do not think now about the future, nor the voices that up and down. I have a contract and I want to Lac RESPECT. I'm just focused on the cup final. For me it is the season ndeshaj. I want to win it and then enjoy. Everything will be clarified after the Cup. I say that I feel very good and Lac Lac has great advantage by any other team.